4 tags
Hotels.com and StubHub Release College Bowl Game...
Today's Blog Post comes courtesy of Shannon J. Barbara, PR coordinator with StubHub, while Jo is out Back in October, we partnered with Hotels.com to bring you some great deals for NFL fans traveling to away cities. This time we teamed up to find the best value for fans during college bowl season. With bowl games already upon us, most fans know where their favorite teams are playing...
7 tags
StubHub and Fans Raise $1 Million for Sandy Relief
Most of you probably watched the 12.12.12 Sandy Relief Concert last week, which took place at Madison Square Garden featuring some of the biggest names in music. Bon Jovi, Eric Clapton, Paul McCartney, The Rolling Stones and Bruce Springsteen were just some of the headline artists that rocked the stage for an important cause – encouraging fans to donate funds to support the victims of Hurricane...
3 tags
3 tags
StubHub Announces Renewal of MLB Partnership
Today's guest blogger is Shannon Barbara, who is filling in for Jo while she's out  You may have heard this already, but I have exciting news to report: we have renewed our agreement with Major League Baseball for five more years! This means that we will continue to be the Official Fan to Fan Ticket Marketplace for all MLB and the best place to shop when looking for baseball tickets through...
3 tags
Heisman Trophy Preview: Will Johnny Football Take...
This Saturday, the most prestigious award of the college football season will be awarded to one of three players: Kansas State QB Collin Klein, Notre Dame LB Manti Te'o, and Texas A&M's freshman phenom, QB Johnny Manziel. Normally there are upwards to five Heisman Trophy finalists, but this year, there are only three. That doesn't mean there isn't plenty of intrigue surrounding who will take...
4 tags
'Tis the season for Holiday Classics on StubHub
The holiday season is in full swing, and here at StubHub, we know what that means: it's time to start thinking about gift ideas and where you could take your family and friends that are visiting from out of town. If the above description fits you – you're in luck because we have great ideas that won't break the bank. For example, if you're in New York City, Nashville, Texas or Illinois, grab...
4 tags
StubHub Donating All Profits from Secondary Ticket...
Today's guest blog comes courtesy of Shannon J. Barbara, public relations coordinator, while Joellen is out. Come Monday morning, one of the hottest tickets in New York City will be to attend "12.12.12" The Concert for Sandy Relief. With all profits from each ticket going to the Robin Hood Foundation to help those affected by Hurricane Sandy, on Dec. 12 Madison Square Garden will be packed with...
1 tag
Notre Dame Goes to Miami, but Ohio State Wins Our...
Today's guest blog comes courtesy of Shannon J. Barbara, public relations coordinator, while Joellen is out.  Week Thirteen Congratulations to the Notre Dame Fighting Irish! Their victory over USC on Saturday placed the Irish in their first ever BCS National Championship Game and provided the legendary squad from South Bend, Indiana their first chance at a National Title since 1988. If we were...
5 tags
Suddenly Hot Bruins Become Hot Ticket
Today's guest blog comes courtesy of Shannon J. Barbara, public relations coordinator, while Joellen is out. Week Twelve That didn't take long! In their first week of being ranked No. 1 and No. 2 respectfully, the Kansas State Wildcats and Oregon Ducks both dropped pivotal games over the weekend, essentially putting the nail in their National Championship coffins. As a result, the Fighting...
6 tags
The Search Continues for Ultimate Fans...
Today's guest blogger is Jackie Tincher from the StubHub Social Team.  Any questions? jtincher@stubhub.com A few months ago, we introduced you to our Ultimate Fan Contest on our Facebook Page. It's our first User Generated Contest to celebrate fans just for being FANS, in unique and fun ways! This month we are looking for the Ultimate Fan Look-Alike! Some of the submissions we've received so...
1 tag
Battle of L.A. Looms Over College Landscape
Week Eleven Today's guest blog comes courtesy of Shannon J. Barbara, public relations coordinator, while Joellen is out. What a wild weekend! After weeks of dominating performances, the Alabama Crimson Tide finally fell for the first time all year. Their defeat opened the door for Kansas State, a longtime Big 12 cellar dweller to reign supreme atop all of college football. Despite those games...
Tweet Ya In Six Weeks (and a small sampling of...
Tweet Ya in Six Weeks? What does that mean?  As most of you all know, StubHub is an eBay company, and every five years, eBay employees are eligible for a sabbatical. So tomorrow, I'm going off the grid for six weeks and will be back in action after the holidays (12/26/12). In the meantime, my colleague, Shannon J. Barbara will be manning this blog and occasionally tweeting on my behalf.  I...
StubHub scores new sports and ticketing partners...
As you may have heard, our parent company, eBay, just announced a groundbreaking partnership with entertainment company AEG, designed to enhance the fan experience. As an eBay company, StubHub is leading the way with AEG integrations and we couldn't be more excited! First, we will become the exclusive secondary ticketing partner for AEG's ticketing solution, AXS.com, featuring our barcode...
HOOISERS: Indiana Basketball Tops Our First Survey...
It seems like only yesterday we were crowning the Kentucky Wildcats as the champions of college basketball. Since last April, college basketball teams across the nation have undergone massive changes, from losing their entire team (Kentucky), getting a brand-new remodeled arena (UCLA), or adding a few cosmetic pieces to prime themselves for a return to prominence (Indiana). As quickly as last...
Discover @StubHub: Find Your Perfect Gift...
There's never a lack of live entertainment excitement in and around Los Angeles — the Lakers and Clippers are well underway, our long-time partner USC is hosting two more games this season, Book of Mormon at the Pantages Theatre, the list goes on. And hey, I can't help but smile seeing that one of my old school favorites, Naughty By Nature, will be at the House of Blues in...
1 tag
USC Outpaces LSU in Showdown of Monster Match-ups
Week Ten As we get nearer to the end of the college football season, we're going to take a moment and admire the thrilling week of action we witnessed this past weekend. The sheer force of the various primetime games led to heart-racing evening in my household. From the battles in SEC country to the high wired acts of the Pac-12. and the answered prayers of Touchdown Jesus, all the games featured...
Analyzing Changes in NBA Fan Demand
What a difference a year makes! Last year at this time we were in the midst of an NBA lockout and a season that appeared very much in jeopardy. This year, we have a much different story. The NBA experienced great momentum coming off an exciting NBA Finals which saw the Miami Heat win their first title in the LeBron James era, a thrilling draft where New Orleans landed top pick Anthony Davis, a...
NBA Infographic Post
Layout Position Draft Colors By Position By Stubhub Data
1 tag
Oklahoma Sees Residual Effect of Titanic Game
The first weekend of November features two high profile showdowns, Alabama playing LSU and Oregon facing their first test of the season at the Coliseum against USC. Those two games showcase an intriguing contrast between two stifling defenses and high-octane offenses. Whatever your football preference, this weekend has it all! But even in lieu of all that, it's the Oklahoma Sooners that have risen...
4 tags
San Francisco Firefighter & His Son Get World...
I'm a sucker for cute kids. Throw baseball and cute kids together and it's all over for me! That's why I love this story that happened this week. The Detroit Tigers' Justin Verlander threw a complete-game shutout as the Tigers eliminated the A's in Game 5 of the American League Divisional Series in Oakland, Calif. (MCT photo) Dash Crispen is a seven-year-old Little Leaguer from San...
7 tags
Wolverines Top Charts for Second Week in Row
Week Eight The national powers of the 2012 college football season are beginning to assert themselves. With Florida, Oregon, Kansas State and Notre Dame notching impressive victories over the weekend, StubHub has continued to see incredibly high fan interest for these upcoming games. This weekend features a few Top 10 matchups as well as a classic Southern rivalry brimming with added intensity. ...
6 tags
StubHub: Your Fall Football… Travel Resource?!
Yes, that's right! We teamed up with some of the biggest names in travel – Hotels.com and Expedia.com – to give college football and NFL fans insights that will help them plan which teams to see on the road. Not only do we have the insight on which teams offer the best bargains, but our mobile app means you can check-in from the road to find tickets. BEST NFL ROAD TRIP BARGAINS Earlier this week...
6 tags
StubHub: First Entertainment Ticketing Company to...
It's an exciting time here at StubHub, as we're continuing our mobile innovation to improve your overall fan experience. In fact, on Monday we became the first entertainment ticketing company to offer interactive venue seat maps on mobile devices. This means that you can now browse for tickets by section, see the range of ticket prices in that section, and view photos of sight lines – all from...
2 tags
Despite Lackluster Seasons, Michigan Rivalry Still...
While the Red River Rivalry wasn't as close as expected, we still had a crazy week in college football. South Carolina, last week's hot ticket item, lost on the road to LSU and we had the first BCS polls released. We're going to keep it old school and still use the AP Poll for our rankings – plus I don't want to get in between the Florida/Oregon controversy! Most of the top teams are on the road...
Do Sports Loyalties Also Determine Political...
Our data guru, Andy Sevastopoulos (@andysevas), dug deep into our data and found some interesting correlations that can't help but make you think about this. Below illustrates his findings, but check out the first entry in our DataHub, where Andy breaks it all down for us. 
2 tags
Red River Rivalry Demand Tops Week Six Chart
After another thrilling week of college football, we are starting to see some new teams emerge into the national title race. However, it's a classic rivalry that takes the top spot in this week's rankings.   Despite a thrilling shootout loss to West Virginia last week, it still hasn't deterred Longhorn fans from snatching up tickets to their annual showdown with heated rival Oklahoma. The Red...
6 tags
Ultimate Fan Contest Continues…
Today's guest blogger is Shannon Barbara, StubHub's PR Coordinator. When it comes to college football, she roots for the Stanford Cardinal, and (by association) Nevada Wolfpack. Our Ultimate Fan Contest continues with Ultimate Tailgate. Tailgating is a tradition for many, and fans gather hours before game time to eat, drink, and socialize. Everyone loves a good tailgate… I spent...
Forget LA Carmageddon, This is Bay Area...
Today's guest blogger is Shannon Barbara. StubHub's PR Coordinator and Bay area native. With the Indian summer beginning in San Francisco, and a plethora of events this weekend, who wouldn't want to be here?! After all, it is Fleet Week!  Over 1 million spectators are expected to visit the City by the Bay this weekend, and with the Giants and A's in the post season, energy is...
6 tags
Texas-Sized Showdowns Highlight Week 5 Rankings
College football has been nothing short of spectacular this year, but we really haven't seen the heavyweights take each other on head-to-head. All that changes this week with many teams squaring off in marquee matches. As the calendar moves into October, several things are clear: the new Big 12 likes offense. Topping this week's new slate of games is the showdown between the Texas Longhorns and...
5 tags
Florida State Chops Its Way to Top of the Charts
It was another exciting week in college football, with some teams coming back into the national spotlight, like the Seminoles and Fighting Irish. Fans are proving unpredictable as teams are bouncing up and down the list week to week. While most fans seem to rally around teams with wins, we have seen some surprises with teams dropping down the list despite scoring big victories. If Saturday's...
5 tags
StubHub gets fans 'buzz'ing at USC
Our first official college football tailgate of the year – at USC's Coliseum – was the coolest place in LA on Saturday (well, the 100-degree weather aside).  The Bolt Barbers came down with their mobile barbershop trailer decked out in StubHub decals and got tailgating fans in the spirit with crazy hair designs. More than 50 super fans lined up for tapered haircuts, Mohawks and USC-inspired...
7 tags
Think you're the biggest USC Trojan Fan? Prove it!
On Saturday, the StubHub team will be at The Coliseum in LA for our first official tailgate of the college football season, as the Trojans take on the Bears! We're inviting all fans to stop by – it's FREE – to show off their team spirit all over their face (or head…). We're teaming up with Bolt Barbers, a local old-school barbershop known for their wild styles, to bring their mobile barbershop...
6 tags
StubHub Integrates with Apple Passbook
If you're like me, you can't wait for Apple's new iOS 6 to be released. The next generation of Apple's mobile operating system is bringing a whole new set of features that I'm excited about. But none more so than the Passbook! For those that missed the big announcement, Passbook is an all-in-one shop to store your boarding passes, retail coupons, and loyalty cards for easy access. You see where...
6 tags
STUBHUB TOP 25: WEEK 3
Michigan And Ohio State Continue To Hold Off Stiff SEC Competition This past week of college football saw some incredible upsets, most notably our hometown Stanford Cardinal taking down the USC Trojans for the fourth straight time. However, despite a topsy-turvy AP Poll, the StubHub Top 25 stayed relatively stable. For the second week in a row, the Michigan Wolverines are the top team in the...
4 tags
Michigan Unseats Alabama To Become Top Searched...
What another exciting week of college football! The top teams in the AP Poll saw no change, but there was much turmoil in the StubHub Top 25. We had some new programs take the top spot.   Funny what a winning week will do. After dispatching Air Force in thrilling fashion, the Michigan Wolverines became the new top team in the StubHub Top 25. Fans of Big Blue must have circled next week's contest...
And the winner is... @yankeespup
Today's guest blogger is Jackie Tincher, longtime Stubber and social media maven. Ultimate Fans Can Have More Than Two Legs Meet the 'other' Yogi Berra, StubHub's Ultimate Fan Pet winner for August, 2012.  Dog days of summer took on a whole new meaning with our Ultimate Fan contest on Facebook.  Each month, we have a new, fun contest theme and in July, we wanted to ensure we didn't...
3 tags
Sports and Dating: Love it or Hate it?
Today's guest blogger is Shannon Barbara, StubHub's PR Coordinator. Sports and Dating go hand in hand. Is baseball or football better for a date? What's your definition of die-hard? Would you date someone who didn't support your favorite team? With one of our favorite rivalry match-ups happening this weekend, we, along with our friends at Match.com, would love to get your...
Get Your Votes in by Aug 31 - ESPN Hall of Fans,...
Those of you that have been watching closely may remember that we recently teamed up with ESPN to create the first-ever Hall of Fans, which will be a permanent fixture at their campus in Bristol, Conn. Thousands of rabid fans submit their entries to become one of three inaugural members of the Hall of Fans, but we've whittled it down to ten finalists. Votes will be accepted until August...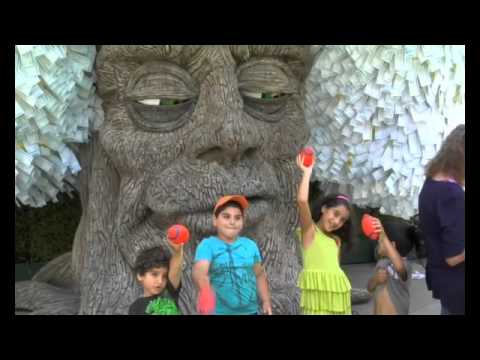 Our Very Own @StubHub Ticket Oak... Hits Hollywood
Today we are launching the industry's first loyalty and rewards program — StubHub Fan Rewards — and there's no better way to do it than by bringing out our famed Ticket Oak in his first LIVE appearance! In celebration, we will be at the Grove, the outdoor shopping mall in Los Angeles, from 12pm-7pm so fans can sign up for the free program, take pictures with him, and get...
1 tag
StubHub Ticket Oak Coming to The Grove
Folks in Southern California are in for a treat if they can make it to The Grove on Wednesday afternoon. StubHub's Ticket Oak will be there in-person, giving away all kinds of prizes and interacting with fans. When: Wednesday, August 15th. 12pm-7pm Where: The Park at the Grove in Los Angeles What: Meet the Ticket Oak, win great prizes, and learn about an exciting new program for fans. ...
6 tags
5 tags
Are You Ready For Some Football?
Today's guest blogger is Shannon Barbara, StubHub's PR Coordinator and a huge 49ers fan. NFL preseason starts next week and there are plenty of tickets (cheap tickets!), available on StubHub for you to see your favorite teams. Many games can be attended for under $5, and there are thousands of tickets available for each game, so now's your chance to visit your favorite stadium and...
Show Us Your Best Spread!
This month's edition of StubHub's Ultimate Fan series is dedicated to all the foodies out there. We're looking for the Ultimate Stadium Food, and we've gotten quite the response already! Check out this festive spread: As a reminder, each Ultimate Fan winner will receive a $500 StubHub gift card. Even though you can't buy stadium grub with that, you can at least get...
5 tags
9 tags
End of Summer London Events
Today's Guest Blogger is Fiona Chow, our Head of UK Communications. Greetings and salutations from StubHub UK! Welcome to my guest blog from our brand new offices in the heart of the West End. It's an exciting time to live and work in London with the 2012 Olympic Games in full flow and the first medals already being claimed. London, already a cultural melting pot, is welcoming visitors from across...
NBA Tickets Preview: Lakers Top the Chart, Nets...
Late last week, the NBA schedules were announced for the fast-approaching 2012-13 season. We took a dive into our data to see which teams fans are most excited about. Measuring by StubHub.com page views since Thursday, we've compiled a top 10 list below: 1. Los Angeles Lakers - over 300k page views 2. Miami Heat 3. Boston Celtics 4. Los Angeles Clippers 5. Chicago Bulls 6. Washington...
Are YOU #HallOfFans Worthy?
A couple weeks ago, we announced a collaborative campaign with ESPN celebrating fanatical-fandom, appropriately dubbing this as the inaugural Hall of Fans. What exactly does this mean? We're looking for the biggest sports fans — from the Philly Phanatics to the Wisconsin Cheeseheads and everything in between — and will be inducting the top three very worthy fans (as voted by the...